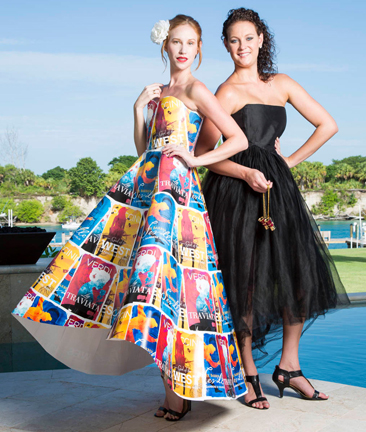 In 2015, Opera Carolina had a unique idea. The group had all sorts of unused flyers, advertisements and programs that typically go to waste after a show. But instead of throwing them in the trash, they began to think of ways to combine their conservation efforts with a really cool art project. So instead of throwing all of it in the landfill, they decided to create couture.
Selecting from a pool of talented fashion designers, the Opera got to work and created an amazing look for New York Fashion Week. Their eco-fashion was so well received that they were invited back this year to do an entire show of recycled dresses.
For the hair and makeup looks on this year's runway, they called in none other than our friends at Warpaint International. Under the direct guidance of owner Jessica Mae, Warpaint will be creating new looks that also tie in with their season's trend lookbook.
Warpaint will be using Elixery products on the runway, so we're really excited to see the final result!
Also, since this project started, Opera Carolina has created fashion from over 10,500 pieces of marketing materials, which is pretty amazing.
If you're at NYFW this year and want to see the show, it is open to the public and ticket information is below. (But if you're not able to make it, the dresses will be on display at the New York Fashion Institute of Technology (FIT) from August 29-Sept 1, 2017.)
EVENT DETAILS
Date: Saturday 9th September 2017
Time: 4:00 PM
Where:
Crowne Plaza, Times Square, Manhattan
1605 Broadway (Between 48th and 49th streets)
Broadway Ballroom, 4th Floor
Tickets: Range from $50 to $1500 (USD). Get tix here.
General tickets range from $50 and $65. After Party and Dinner tickets are $150.