Join us at Art-a-Whirl 2017!
Art-a-Whirl has been a Minneapolis tradition for 22 years, and over that time it has become the largest open-studio art crawl in the nation. It's a chance to see the secret world inside the studios of amazing painters, sculptors and other artists of all mediums. Over the years, Art-a-Whirl has evolved to include live music and unique local shopping that you won't find any where else.
This year, we'll be at Chowgirls' Lounge with 30+ artists and vendors for a fun weekend of artistic delights. Plus, there will be awesome live bands all weekend downstairs at Indeed Brewing Company's Whirligig - including Twin Cities notables Marijuana Deathsquads, Pert Near Sandstone and Mark Mallman amongst other awesome bands.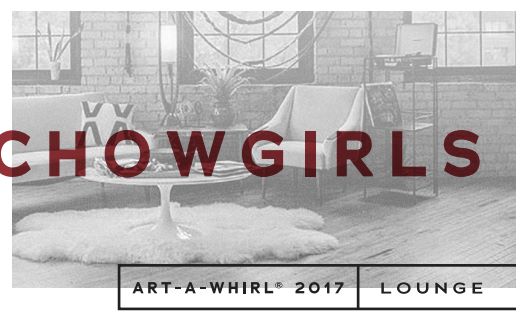 Chowgirls Killer Catering will be serving up a Retro TV dinner menu - all created with local and organic ingredients. For libations, there will be some lovely drinks made with local spirits: Classic Manhattans, and the Chowgirls signature Rhubarbarita. In keeping with the retro theme, you'll be welcome to hang out in the Mod Lounge styled by the folks at Findfurnish.
Catch up on your lipstick collection and see what else we might have brewed up since the last time you saw us!
Parking tip: Solar Arts is right near the center of the Art-A-Whirl action, so you'll be able to easily walk by all the big exhibits - Casket Arts, Northrup King, The Quarma Building, Architectural Antiques and more.
Looking forward to seeing you!
Details:
Solar Arts Building
(Chowgirls Lounge is on the 3rd floor)
711 NE 15th Ave
Minneapolis, MN 55413
May 19: 5-10 pm
May 20: noon-8 pm
May 21: noon-5 pm